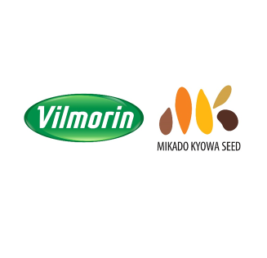 Job Detail
Job Description
Job Title: Sales Manager
Job Location: Salinas, CA
Salary Range: $140,000 – 180,000
To Apply: Send resumes to Careers@vilmorinmikado.com
The fourth-largest seed company in the world. Limagrain is an international cooperative group created and directed by French farmers. As a creator and producer of plant varieties, Limagrain markets field seeds, vegetable seeds, and cereal products.
Vilmorin-Mikado USA, Inc. is the Business Unit of Group Limagrain, a socially conscious company headquartered in France and Japan; specializes in breeding, producing, and marketing vegetable and tree seeds for professional farmers worldwide. The diversity within our multicultural teams drives the company's growth strategy through quality products, expertise, and commitment to excellence. Vilmorin-Mikado USA, Inc., is the North American operation of Vilmorin-Mikado and is the reporting location for this position. This position reports to the Subsidiary Manager.
Position Summary:
Manage the Sales Program and lead a team of Sales Representatives to develop and generate sales growth of Vilmorin-Mikado products, within a designated region.
This position will manage the Sales Representatives supporting the US and Canada. Our sales consist of a dealer and direct sales model to develop and grow sales, while also increasing the market share and customer base for Vilmorin-Mikado. We have a commercial strategy outlining initiatives into operational objectives as well as an action plan for the business which is formulating policies and managing daily operations and risks of the business.
Essential Duties and Responsibilities:
Define and supervise actions, goals, and achievements of the team.
Propose and implement a sales strategy and in some cases a product development strategy to gain market share and increase the profitability of the Business Unit business within the region.
Direct interface with customers.
Coordinate key accounts.
Monitor the sales within the region.
Propose and control budgets for the territory and team.
Coordinate the pricing policy and strategy for the department.
Propose a production commercial seed for the region.
Coordinate various events within the department: Sales Meetings, Industry & other conventions.
Champion of key company ERP systems, FUTURMASTER, and CRM.
Work closely with the Product Development Manager to maintain a high level of knowledge regarding the competitor's key products.
Requires daily travel to visit customers in industry functions and field trials. May require frequent trips outside of the region to attend company and/or industry-related meetings. Multiple overnights stay throughout the year in the region. And eventually, one international trip per year may be required.
Qualifications:
To perform this job successfully, an individual must be able to perform each essential duty satisfactorily. The requirements listed below are representative of the knowledge, skill, and/or ability required. Reasonable accommodations may be made to enable individuals with disabilities to perform essential functions.
Education:
Bachelor's degree in Agriculture, Plant Science, Business, or related fields
Master's level degree preferred
Skills:
Minimum 5 years experience in Sales, Management, and/or related positions within the vegetable industry.
Extensive knowledge of the seed industry; specifically, vegetable seeds within the US/Canada markets.
Proficiency in the English language is required.
Knowledge of Microsoft Office programs such as Outlook, Word, Excel, and PowerPoint.
Must be available for international travel.
Competencies:
To perform the job successfully, an individual should demonstrate the following competencies:
Strategic Planning and Analysis – Ability to initiate and lead the planning and analysis of market data, through constant communication and coordination with research, development, and product management teams, to evaluate main targets. Ability to take a lead role in the overall strategy, research and development requirements, development, and processing coordination for new and emerging products.
Technical Skills – Vegetable production knowledge. Technical expertise in key vegetable pest and management practices. Knowledge of the Fresh Market or Processing market/industry. Sales and customer management skills, as well as crop management skills. Ability to evaluate trials and new variety selections. Budgeting experience. Computer skills (Word, Excel, PowerPoint). Strong verbal and written communication skills. Good interpersonal skills and integrity. Ability to work with people of different cultural and ethnic backgrounds.
Interpersonal Skills – Possess strong leadership and communication skills. Ability to develop and maintain productive work relationships with associates, dealers, growers, customers, and related industry personnel.
Teamwork – Team player with a positive attitude.  Ability to facilitate teamwork among staff.
Judgment – Exhibit sound and accurate judgment. Accept personal responsibility for task fulfillment and job performance.
Professionalism – Highly self-motivated individual, with high time management and organizational skills. Have a creative aptitude. Well-organized, committed, accurate, and thorough, with attention to detail.
Adaptability – Ability to deal with frequent changes, delays, or unexpected events. Ability to handle multiple projects simultaneously. Ability to travel regularly throughout assigned area. Ability and willingness to work outdoors in adverse weather conditions. Ability to work in a highly competitive sales/business environment. Autonomous.
Attendance/Punctuality – Ensure work responsibilities are covered.
Dependability – Ability to work in an independent and self-directed manner.
Other jobs you may like