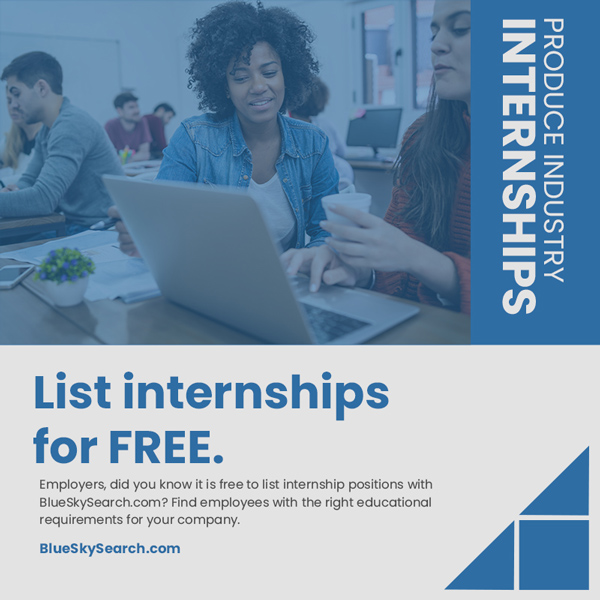 Find an Internship in the Produce Industry
BlueSkySearch.com on the web at blueskysearch.com, the original agriculture online job portal service, has curated many internship programs with several long standing members of the produce community. These opportunities cover the expanse of the country from California to Rhode Island. With all industries in a state of upheaval during this past year BlueSkySearch wants to connect young talent with corporate experts so that the agriculture and produce industries, as a whole, can prosper and move forward.
BlueSkySearch, LLC offers free job listings for 2022 intern positions businesses in the agriculture and produce industries. BlueSkySearch wants to help these industries by connecting young talent with corporate experts.
Free Job Postings for Internships
Employers: Finding opportunities for talented entry level employees to connect with the right corporations is getting more challenging and congested every year. By specializing in just the agriculture business space, BlueSkySearch is in a unique position to assist both the potential employees and employers by posting industry specific positions and assembling resumes from top talent ready to move on from academia and get real life work experience. Agriculture businesses that wish to list an internship will do so at no cost, and students will be given a unique opportunity to connect with those businesses. There is still a window of time for businesses to also still list complimentary internship programs with BlueSkeySearch.
Make sure to choose "Internships" as your Primary Category when posting the position.