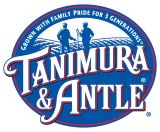 Job Detail
Job Description
Our Company:
Tanimura & Antle is an employee-owned family farming business with a four-generation legacy and a passionate commitment to growing premium quality produce. As one of the largest independent vegetable growers in the United States, Tanimura & Antle farms more than 36,000 acres of rich, fertile farmland and ships a full line of premium fresh conventional, organic and greenhouse grown produce products throughout the nation.
We are looking for employees that fit into the Tanimura & Antle culture and want to have an impact on our growth and success. We believe in, and are committed to, creating a sustainable future through innovation throughout our operations.
Our Mission: To "Consistently provide our customers fresh and healthy premium produce with superior customer service that meets and exceeds their quality and value expectations"
Our Vision: To "Operate as a highly innovative company, sustainably growing, while enhancing the lives of all through employee ownership and customer inspired partnerships"
The Role: In this role you will work within our sales department to maintain and develop our National Retail Accounts. This will require you to work collaboratively across multiple departments in order to accurately and effectively execute daily responsibilities. You will have direct facing and daily communications with the customer. Excellent reasoning skills are a must as this role is critical to the success of the program.
Location: Salinas, California
Salary: $65,000 per year
Areas of Responsibility:
Manage fluctuations in supply and demand in collaboration with retail partners, as well as internal business groups such as product management and cooler operations.
Maintain and manage volume flow with internal teams to ensure seamless service to retail partners
Provide guidance and adjust orders accordingly based on trends.
Anticipate future demand by analyzing sales and market fluctuations
Provide excellent service and value to customers by understanding their systems and procedures.
Communicate daily and accurately with customers as it relates to products and business operations.
Effectively articulate market updates, and industry outlooks.
Problem resolution. This involves working with internal and external parties to quickly resolve and adjust future processes as needed.
Work with customers and accounting departments on unresolved balances & short payments.
Other duties as assigned.
Preferred Qualifications: 
Must have reliable, predictable attendance and punctuality.
Strong written and oral communication skills.
Proficient in Microsoft Office Suite is a must.
Detail oriented with ability to multitask.
Basic to intermediate math skills. Understanding of general accounting a plus.
Must be able to work well both. independently and with a team.
Must be able to promote a positive company image and uphold company values.
High School Diploma/GED and a Bachelor's Degree
4 years of relative work experience
Some travel and afterhours work required.
Ideal Attributes: 
Loves to work with people and communicate collaboratively to accomplish common goals
Self-motivated to continually improve and add value, even if it is outside of their job description
Ability to troubleshoot and provide solutions
Ability to plan ahead and predict problems by being observant to the little things that make a big difference
Enjoys being a team player and being part of a collective effort
Other jobs you may like