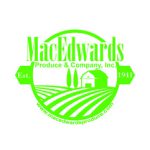 Overview
Company Description
We are a family owned and operated business located in Miami, Florida, USA. We have been serving our customers fine fresh fruits and vegetables since the 1940's.  We serve fresh, wholesale produce to a variety of clients and are able to satisfy customers of all sizes. No operation is too small or too large. We offer 7 day a week delivery to wholesale and food service customers. We deliver from Indian River County all the way to Key West, Florida.  Food Safety is paramount to Mac Edwards Produce & CO., Inc. Mac Edwards Produce & Co., Inc. is GFSI Benchmark certified in all of the products we handle including our fresh cut processing operation.
Mac Edwards Produce & Co. Inc. carries a full line of fresh fruits and vegetables, Dairy, eggs and grocery items. We also offer custom "Fresh Cut" produce from our in-house processor.  We operate out of large, modern refrigerated warehouse located adjacent to Miami International Airport. We have a fleet of over 40 modern, refrigerated and maintained delivery vehicles.  We offer refrigerated delivery and pickup of product as well as consolidating and warehousing. We also have decades of experience exporting produce orders all over the globe.
At Mac Edwards Produce & Co. Inc., we like to think of our clients as partners rather than customers. We want you to succeed. We are dedicated to finding the finest quality product that meets the exact specifications of our customers. We pride ourselves in offering a more personalized service than that of our competitors. We will work with our customers to provide them product and service when and how they require it. Please call us or email us for more information on how we can do business with you.