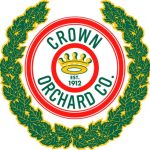 Overview
Company Description
Crown Orchard Company is one of Central Virginia's most prolific fruit growers, boasting seven major orchards spread over a 15-mile radius. Owned and operated by the Chiles family, the company has many acres of peaches, nectarines, and apples.
Crown Orchard is a major wholesale supplier for the region, thanks in part to a state-of-the-art packing facility located in Covesville, Virginia and a full-year staff.
The company also owns and operates Carter Mountain Orchard, Chiles Peach Orchard, and Spring Valley Orchard.