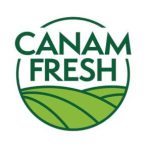 Overview
Company Description
Can-Am Pepper Company (U.S.A.) LP
Decades ago our company handled only bell peppers. Today, we grow a lot more than just peppers. Canam Fresh sells over 30 delicious and nutritious vegetables and fruits year-round, from farms in Canada, the United States, and Mexico.
Fresh solutions
Canam Fresh grows, stores, transports and markets wholesome vegetables and fruits across North America and beyond. We offer food manufacturers, processers and fresh retailers a reliable, year-round supply chain of produce, integrated with specialized solutions. Our unique Ready-To-Pak Bulk program, a Canam Fresh innovation, solves many supply chain problems.
Wholesome people. Wholesome processes.
Values are the secret of our success. At Canam Fresh, we do as we say and say as we do, promising and delivering wholesome food with dedication, honesty, and transparency.