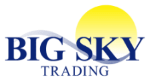 Overview
Company Description
As a PrimusGFS certified facility, Big Sky Trading is benchmarked against the Global Food Safety Initiative. This is considered the most comprehensive and in depth food safety program in the world. We strive to bring you superior quality in our product and service by following ongoing changes to standards and practices in our industry.
In addition, we are Organic Certified with the Colorado Department of Agriculture. This allows us to properly handle and transport Organic product without concerns of commingling with anything else. Continuous improvement to these programs guarantee we are doing whatever possible to stay ahead of the latest trends in the industry.
Having year round transportation from all the major growing regions in the United States and Mexico means fresher product and freight solutions for your company. With over 100 years of experience, we have the resources and relationships to provide a variety of products and services to help your  business grow.