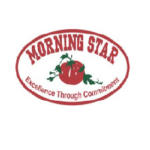 Overview
Company Description
In 1970, Chris Rufer began Morning Star as a one-truck owner-operator company in California's Central Valley, hauling tomatoes from fields to canneries.
Today, Morning Star operates three factories with the largest production scale in the world, with resources solely dedicated to tomatoes. We supply over 40 percent of national markets with ingredient tomato paste and diced tomatoes. We provide bulk-ingredient products to food manufacturers and pouch and can ingredient and finished products to the food service and retail trade. We are actively involved in the global tomato industry and ongoing tomato research, and we have pioneered changes in production technology that have helped increase efficiencies throughout the industry. Our sales of tomato products are over $800 million annually. And we still haul our tomatoes from the fields – just as our owner began his journey in 1970.
Our mission is, and has always been, to produce tomato products which consistently achieve the quality and service expectations of our customers in a cost-effective, environmentally responsible manner.