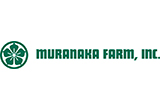 Job Detail
Job Description
At Muranaka Farm, our philosophy has always been to be the best at growing our specialty products. Our business is founded on keeping the consumer's best interests in mind. We understand that there is no substitute for fresh, premium grade produce. And when it comes to food safety, we take extra steps, such as weekly monitoring, to ensure our product is free of any bacterial or pesticide concerns.
We have an immediate opening for a Sales Account Representative responsible for proactively managing customer accounts including retail, foodservice, and wholesale.
People like working here because we work as a team and offer a competitive compensation package, including salary, paid time off, retirement plan, and full health benefits.
If you are someone with a great people personality only matched by your attention to detail to ensure the highest quality of sales and customer service, then we encourage you to apply!
Job Qualifications:
Proactively create opportunities for sales with new and existing customers
Increase sales revenue in line with established sales targets
Develop strong product knowledge and logistic understanding of product flows, impacts of weather, etc.
Manage strategic plans while maintaining sales strategy compliance
Maintain a thorough understanding of each customer's business and anticipate customer needs
Strong focus on company growth with an emphasis on maximizing long-term profitability
Consistently track customer development to achieve organizational goals and objectives.
Build and establish strong working relationships with all team members to ensure successful services to customers
Qualifications:
Ability to perform under pressure in a fast-paced environment
Strong work ethic, moral character, and high business ethics
Strong analytical skills with the ability to make sound decisions and problem solve
Self-motivated team player with results-oriented attitude and creative background
Fluency in both English and Spanish preferred
Computer literacy skills for strong capability operating various E-Commerce platforms
Knowledge of fresh vegetable produce industry preferred
Bachelor's Degree or equivalent studies in business or sales-related fields
3+ years previous sales experience; preferably in perishables
Other jobs you may like