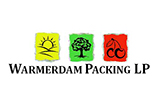 Job Detail
Job Description
Manager: Chief Executive Officer
Position Type: Supervisory – Full-Time
Pay Range: $80,000 – $130,000 / year
Weekly Hours: 40+ hours
Warmerdam Packing, LLC, headquartered in Hanford, California, packs, cools and ships premium cherries, plum cherries, kiwi and pomegranates.  Its farming division, New Excelsior Farming, LLC is one of the largest cherry growers in the southern San Joaquin Valley and farms over 1,500 acres of cherries, plum cherries and kiwi.
Job Summary:
To ensure that New Excelsior Farming, LLC (NEF), and related companies have in place all the tools required to harness strategic advantages over competitors through the study and implementation of IP rights and development, innovation, and R&D in general. To be global leaders in the production of relevant commodities and to find and seek market opportunities that are not evident to competitors.
Description/Responsibilities:
Genetics –
Bradford Proprietary Cherries – Oversee the evaluation process of new varieties, including determining key characteristics such as bloom timing, pollination compatibility (work with labs to determine S-alleles), virus status, fruit quality, chill requirements, long term storage characteristics, etc. Travel to Le Grand weekly to evaluate varieties on the tree before any harvest occurs. Monitor NEF test blocks (Souza, Acorn) twice per week during harvest window, making crop load assessments, timing assessments, quality attributes etc. Compile QC data for each variety to determine commercial value. The ultimate goal is to select varieties with characteristics to surpass current commercial varieties.
Zaiger, IFG, Holovousy, etc. – Visit test blocks regularly during harvest to assess crop load, quality, etc, to determine if introduction into NEF test blocks is warranted. Once in NEF test block, follow same protocols as above.
Zaiger Plum Cherry, Bradford Baby Plums – Visit breeders test blocks regularly. Collect samples of promising varieties from both breeder and NEF test blocks for analysis. Conduct taste testing panels to determine suitability of flavor for various markets. Determine basic growth and productivity characteristics of each promising selection. Make determination of which varieties to advance to NEF test block.
In general, for all commodities – Manage acquisition, movement, propagation and usage of new plant materials. Ensure all promising varieties are introduced to NEF tests blocks. Oversee development of mother blocks for rapid expansions. Develop strong relationships with breeders and their staff. Help manage contractual obligations. Manage importation protocols where applicable. Develop good relationships with global partners who are involved in the same breeding programs.
Pomegranates and kiwifruit – Seek new breeders and new variety selections globally for testing. Manage importation of plant material. Help manage IP rights. Develop test blocks to determine commercial value.
Organize and conduct rootstock trials in cherries and plums. Oversee propagation of rootstocks and relevant scion varieties. Determine suitability of rootstocks for various soil and climate co diction, growth habit characteristics.
Longer term in-house breeding – Look for opportunities to develop an internal breeding program of all crops using available genetic materials.
New Orchard Developments –
Overall goal is to develop strategies to reduce the amount of time from planting until the first crop and doing so in the most economical way.
Determine cost-benefit of various canopy management techniques.
Develop and evaluate optimum rates and timings of various materials to achieve desired results (for example, Promalin to induce lateral branches in cherries).
Establishment and evaluation of novel tree training systems and techniques.
New Opportunity Development –
Identify and test new potential commodity opportunities that are consistent with overall objectives of the company.
Establish and manage new trial sites outside of current footprint of the business, for example, a test block of red kiwifruit in a milder climate like Sacramento Valley.
Assist management in making long term strategy decisions regarding commodities or varieties that could harness strategic competitive advantages.
Novel PGR, Disease, Nutrition, Pest Management, and Irrigation Development –
Oversee or conduct all trials on new materials or practices to achieve objectives.
Primary emphasis on: Plum Cherry crop load management, i.e., fruit thinning materials; nutritional and phytonutrient products; rest breaking materials and the appropriate rates and timings; PGRs materials to improve size, production, and/or fruit quality.
Secondary emphasis on coordinating and cooperating with suppliers of new pesticide materials, such as novel organic herbicides or unique fungicides.
Enhance Knowledge Base on Dormancy Accumulation and Rest Breaking –
Study all relevant species and cultivars to clearly understand the amount of dormancy required to achieve optimum yield and timing.
Determine ideal timing of application of current materials used.
Seek organically certified materials or strategies for dormancy accumulation and rest breaking.
Seek to understand impact of light in the form of solar radiation versus ambient air temperature.
Technologies –
Seeks products, machinery, computer, or web based, etc, technologies to that will lead to reduced labor costs and improve orchard performance.
Orchard Structure Design and Construction –
Oversee the design and construction of orchard structures, including shade netting, DC Tech, CC Tech, overhead evaporative cooling.
Assist in designing new components to improve costs and design.
Consult with engineers for proper design of structures, especially in high wind areas.
Manage ordering and maintaining of inventory of parts associated with the structures.
Manage ordering and shipment of supplies imported from other countries.
Required Skills/Abilities:
Bilingual in English and Spanish.
Valid driver's license with a clean record.
Valid US Passport with access to key countries.
Analytical skills, fluency in Microsoft Office (including Excel) and similar software and apps.
Education and Experience:
Bachelor's degree in a related field (agronomy, horticulture, pomology, plant science, etc).
5+ years of experience in similar field of work.
Physical Requirements
Prolonged periods sitting at a desk and working on a computer.
Physically capable of extended hours working in outdoor conditions.
Must be able to lift up to 25 pounds at times.
Willing and able to travel long distances within CA and internationally, at times for extended periods (2 plus weeks at a time).
Environmental Factors
Majority of the work is performed in an indoor and outdoor environment.
Work is performed in a professional office environment.
Dress Code
Equipment Used to Perform Job
Computer
Copy Machine
Telephone
Scanners
Printers
EQUAL EMPLOYMENT OPPORTUNITY:
Our company is an Equal Opportunity employer. All qualified applicants will receive consideration for employment without regard to race, national origin, age, sex, religion, disability, sexual orientation, marital status, veteran status, gender identity or expression, or any other basis protected by local, state or federal law.
This position can encompass duties other than the specified duties listed above.  If necessary, alternative duties can be assigned at the discretion of the Manager.
Other jobs you may like