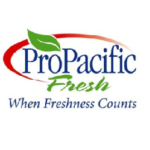 Overview
Company Description
Founded in 1983, ProPacific Fresh is headquartered in Durham, California. Originally called Chico Produce, we began by providing fresh produce to local retailers and foodservice operators. As our company and customer base has grown over the years, so has our Product line. Our customers now count on us to deliver fresh fruits and vegetables, dairy, cheese, eggs, meat, frozen items, salads & salad dressing, cooking oils, pickles and tortillas just to name a few.
Backed by an unwavering commitment to our customers and associates we have grown our company to include distribution operations in Durham, Redding, Eureka and Sacramento, California. As shown on our Distribution Map, ProPacific Fresh specializes in the distribution of quality fresh food products to a diverse customer base including foodservice, retail, healthcare, schools, institutional and distributors throughout central and northern California and western Nevada. Our success centers on our dedication to quality, selection and superior customer service.
Food Safety is at the core of our business and we are committed to providing our customers with the safest fresh food products available. Annually our facilities score "excellent" and "superior" ratings by the BRC, an independent food safety and facility auditor.
We recognize the importance of our vendor partner's to our success and have been awarded recognition as a Trading Member, earning a XXXX rating, the highest achievable for moral responsibility by the Ble Book. Additionally, we have been awarded "Vendor of the Year" several times by various customers and most recently we have been awarded the New California Top 100 Business Leadership Award.
Our talented associates stand ready to assist you with fresh solutions and individualized customer service. Come experience the ProPacific Fresh difference.