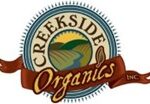 Overview
Company Description
Established in 2011, Creekside Organics Inc. has become a thriving organic produce sales and marketing company. We are dedicated to enriching the organic market choices by working with growers whose quality and variety of produce allows the end user to add healthy organic foods to their lifestyle.
Creekside Organics works with multiple growers throughout California and Mexico advising on crop planning, monitoring quality control, and marketing a large variety of organic produce to diverse domestic and international customers.
We are seeking a Food Safety Specialist with knowledge of food safety in the produce industry to work on our food safety team. The position includes food safety & organic certification duties, document control, and working with our vendors, customers, and growers.